After running a successful Crowdfunding Campaign over £5,000 was raised by some 200+ avid fans to help fund the Production and release of the debut Album. 'Behind The Sun' is available on Limited Edition pre-release CD, Vinyl and Digital formats. The official release show is scheduled for Summer 2018 at Colos-Saal in Aschaffenburg, Germany. Date and support act to be announced here shortly.
Click on the tracks below to preview or visit the music page on Bandcamp to buy & download the digital verion. You can also buy a Limited Edition copy of the Album on CD, Vinyl and if you really wanna get into the vibe, there's some other merchandise, T-shirts & Posters of the Album cover & Artwork.
If you prefer to do things the Old-Skool way and don't trust online payment systems, you can also stay safe & secure with Paypal. Just click the following link to send payment directly - https://www.paypal.me/chrispookah
Behind The Sun - 13 Track Album

All Digital-Downloads include unlimited streaming via Bandcamp. Also included are images from the Album Artwork, song-lyrics and text in PDF format.
The songs and the Musicians:
The songs are all original material. Written & composed by myself so as such they are very close to my heart. To have the chance to make these recordings with such gifted musicians and genuine down-to-earth people is something really special. All musicians on the album, bar one, came from the local area in and around Aschaffenburg and every one helped bring to life the stories, tales and emotions that lay behind each song.
Each musician had a part to play in this, each one put a little bit of their heart and soul into the recordings and each of them helped to make this something really special. I hope to see these songs shared with as wide an audience as possible and I started this crowdfunding project to help make that happen.
Musicians
Chris pookah - Acoustic guitar & vocals
Christine 'Buba' Leban - Auto-harp, backing vocals and harmonies
Michael Hauck - Electric, acoustic, uke-bass & double-bass.
Marko Hauck - Didgeridoo
Max Sauer - Violin
Lukas Sauer - Electric guitar
Jonathan Geiss - Drums
Marcel Bickert - Djembe
Miriam Krausert - Flute
Udo Eizenhöfer - Horns
Jürgen Wüst - keys & Electric guitar
Daniel Hertzov - Mandolin & acoustic guitar
Gabriel Wedde - Drums & brushes
Ralf Göldner - Wave drum & all sorts of crazy percussion
Stefan 'Kunni' - Blues harp
All tracks were recorded and produced by Michael Hauck from Strandvilla. Recorded at Loch Less Studios, Bayern, Germany.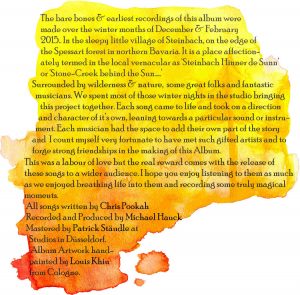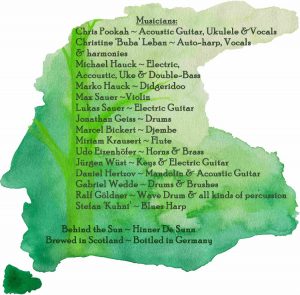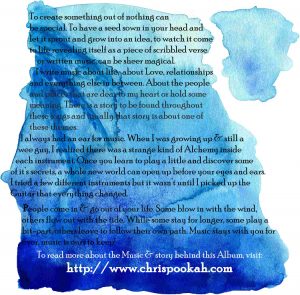 ---
"The only truth is music."
― Jack Kerouac