I am really happy and excited to announce the release of my debut album 'Behind the Sun' which will soon be available to buy via this website. First off though,  I'll be launching a crowdfunding campaign on Indiegogo.com to help raise the funds needed to get the album released properly and get it out there.
So why Crowdfunding? Well, It takes a lot of time, effort and money to make professional sounding, well-arranged recordings. Studio time, engineering fees, production costs, all of this costs money. The bottom line is that without a certain amount of pre-sales via a campaign such as this, I would not be in a position financially to meet the cost of production and release of this album.
By offering the chance to be a vital part of this process, you will receive a copy of the album before the official release-date, on CD and download. You will be part of a community-based project borne from hard work, devotion and a genuine love of music. Perhaps, more importantly, you will know that you helped make it all possible! With your help I will be able to bring this project to it's rightful conclusion and get the songs released.
There are a number of ways you can get involved and also a number of unique and exciting perks & rewards that I hope will encourage support for the campaign. From CD's, artwork and other merchandise, to house concert's, music workshops, guitar lessons and singing sessions.
The video below explains further. The crowdfunding page on Indiegogo.com is here
Or you can also donate directly via Paypal link https://www.paypal.me/chrispookah
---
---
The songs and the Musicians
The songs are all original material. Written & composed by myself so as such they are very close to my heart. To have the chance to make these recordings with such gifted musicians and genuine down-to-earth people is something really special. All musicians on the album, bar one, came from the local area in and around Aschaffenburg and every one helped bring to life the stories, tales and emotions that lay behind each song.
This collection consists of fourteen songs, recorded with fourteen different musicians, over a period of fourteen weeks…… give or take a day's recording here and there.
Each musician had a part to play in this, each one put a little bit of their heart and soul into the recordings and each of them helped to make this something really special. I hope to see these songs shared with as wide an audience as possible and I started this crowdfunding project to help make that happen.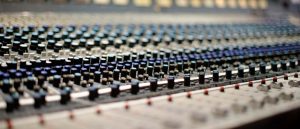 Recording Process
All tracks on the album were recorded and produced by Michael Hauck from Loch Less Studio in Steinbach. A sleepy wee village just outside the town of Aschaffenburg.  These are real quality, professional recordings. Beautifully arranged and mixed to a very high standard.
You can listen to some of the tracks on this website by clicking here.
The Album has been recorded and is now in the final mixing & mastering phase, which I plan to have complete by Autumn 2017. This will coincide with the end-phase of the crowdfunding campaign when the CD production will begin.
To date, recording these songs with so many great musicians brought some of the proudest and satisfying moments into my life. It was a lot of effort and hard work at times, but it has also been a most enjoyable and enlightening journey which I will never forget.

What We Need & What You Get
I need help to cover the costs of studio time, Engineering fees, mixing, mastering and tracking. The pressing and release of the Album on CD and Vinyl, press promotion and publication.
Most of this does not come cheap, just as everything has a price. But we want to do this properly and in the right way, We believe that with a little help from people like yourself, we can make it happen…
We would really love to hear from you, especially if you are in a position to help fund this project. We have put together a list of perks and rewards for your kindness and generosity. A range of tasty goodie bags are on offer if you are able to contribute to the fund and get involved!
Even if you're not able to back us financially, you can still help share this campaign with your friends & family or anyone else you think would be interested. Like that random guy at the bus stop, or on the morning train. Anything you can do to help us would be really appreciated and we would all be grateful to you.
The Impact
The main goal is to reach £5000. Every penny that is raised will go to paying and funding the project. Of course to reach this goal and even go beyond it would be absolutely fantastic. This would allow us further scope to make sure the outcome is a success. Every penny counts and every single one will go to where it is needed the most.
Each person who contributes to this project, will be kept up-to-date and informed of all progress made. Through Social media, mail shots and as a part of an online marketing campaign you will updated on what is happening and when it is happening.
---
"Jazz isn't dead. It just smells funny."
― Frank Zappa